We Are Empowered by Digital Dentistry
---
The American College of Prosthodontists is working to ensure that prosthodontists are prepared to lead the emergence of digital dentistry in clinical practice. Advanced digital technology is changing what is possible in oral health, function, and beauty.
Dr. Tyler, as a prosthodontist and Certified Dental Technician (CDT), has unparalleled training for incorporation of digital solutions into his practice. Since we have upgraded to digital technology, our practice has experienced significantly improved workflow efficiency and accuracy. Our patients treated with digital solutions are benefitting from the combination of efficient processes, accurate high-strength materials, and beautiful esthetics.
---
CEREC – Single-Visit Dental Crowns Technology
---
CEREC, or Chairside Economical Restoration of Esthetic Ceramics (CEREC), is a breakthrough technology that allows dentists to create top-quality porcelain dental crowns in just one appointment.
---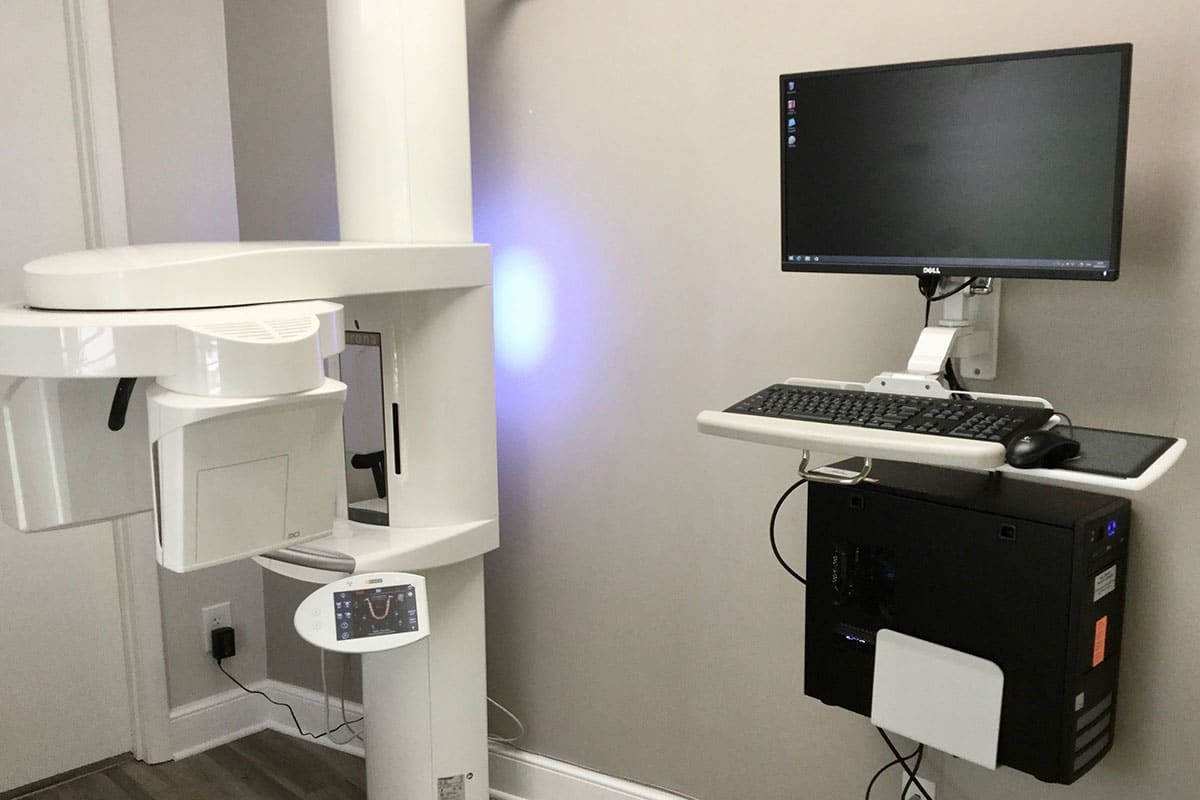 ---
Sirona ORTHOPHOS SL 3D Imaging and Panoramic X-ray
---
This unit complies with the best practices in dentistry by following the American Dental Association's ALARA (As Low As Reasonably Achievable) radiation principle to minimize the effective radiation dose to our patients. The unique features of this unit allow us to choose what area of the teeth and facial anatomy we need to capture, which significantly reduces any unnecessary radiation exposure.
---
MoonRay 3D Printer
---
Dr. Tyler uses this revolutionary 3D printing technology to make outcomes more predictable, easier, and safer for his patients.
---
CAD/CAM Dentistry
---
CAD/CAM stands for Computer Aided Design (CAD) and Computer Aided Milling (CAM). 3D images can be uploaded into special CAD software, allowing the dentist to evaluate the exact details of the appearance and function of the restoration.  This software can also help the patient to visualize the end result of the proposed restoration.
Once the design is finalized, the files are sent to the CAM system for fabrication of the restoration to the exact specifications of the design.  Use of CAD/CAM technology increases efficiency and accuracy, and can often reduce the overall number of patient visits needed.
---
Sirona Schick 33 Digital X-ray Sensors
---
At Stuart Prosthetic Dentistry we are offering the safest, most efficient and up-to-date x-ray technology to meet your needs. We value transparency and want our patients to fully understand their dental health. Dr. Tyler will explain it and show it to you with these accurate digital x-rays.
Compared to traditional film x-rays, Schick 33 Digital x-ray Sensor exposes the patient to 80 percent less radiation and provides a comfortable and more efficient x-ray experience.
With digital x-rays the images are produced instantly by using digital sensors. No more developing images—they instantly pop up on the screen.

This way, our patients can see the image for themselves on our 32" HDTVs in each treatment room and consult room.

The images are also much clearer than film x-rays and can be tweaked and zoomed in on for easy access.
With digital images, we can store these images and even have duplicate copies securely emailed to other offices if needed. With a film x-ray, if the original was lost, it was gone forever.
Digital radiology offers more shades of gray as opposed to the shades that conventional radiology offers allowing greater contrast for spotting tooth decay earlier.
---
Digital Patient Records with Eaglesoft
---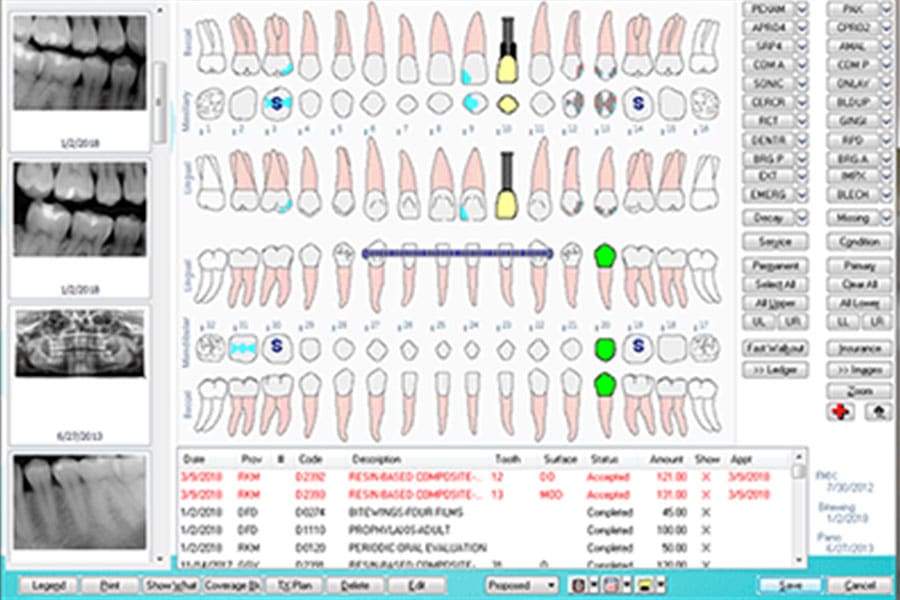 ---
Accounting – Allows for improved patient financial tracking and communication.

Scheduling – Provides efficient, productive patient appointment scheduling.

Treatment Planning – Allows presentation of clear and concise treatment plans and treatment options; Eases patient understanding of financial impact of a treatment with insurance coverage estimates attached to the plan.

Document Management – SmartDoc is a dynamic document manager that saves all documents digitally.

Clinical Software – Improved patient care and care coordination with tooth and periodontal charting, clinical notes, and all patient images in one patient record.
---
Digital SLR Camera and Digital Intraoral Cameras
---
There are many reasons why dental photography should be considered an advantage for our patients, including:
Diagnosis and treatment planning - Intraoral photographs are an important addition to patient records (charting, radiographs, study models). They provide a static, in-depth look at the patient's teeth and oral cavity that is easily reviewed and compared with the patient's other records.

Enhanced patient education and communication – Intraoral photographs improve patient understanding of conditions and treatments.

Insurance verification – Photographs, along with periodontal charting, radiographs, and/or narrative by the doctor, are many times required by insurance companies before disbursement of benefits.

Other specialist consultation/referral – Photographs, along with charting, radiographs, and written reports, allow for better communication between interdisciplinary specialists who may be required for some treatments.

Laboratory Communication – With clinical photos, a dentist and dental lab can more easily and accurately communicate, allowing them to provide optimal esthetics in a prosthesis (i.e. tooth shading).

Doctor self-assessment/improvement – As professionals, good dentists are continually learning throughout their careers. Photographs don't lie, and an honest self-assessment helps your dentist continually improve their quality of care.
---
Treatment Rooms by A-dec
---
Our A-dec 500 dental chair allows us to pamper patients at Stuart Prosthetic Dentistry. Through the science of pressure mapping, the unique cushioning reduces pressure points and provides comfortable support across the patient's entire body. The A-dec 500 dental chair synchronizes the chair movement with the natural motion of the patient. This "virtual pivot" keeps the patient from having to readjust when the chair is lowered or raised.
---
An A-dec delivery system provides reliable and streamlined control of the dental handpieces, air/water delivery, dental chair, and dental light functions:
The A-dec 500 LED dental light delivers higher illumination to maximize vision of the oral cavity in any position and the color rendering index enables more accurate color determination for tissue evaluation.

A-dec dental cabinets streamline workflow efficiency and are built to withstand the unique disinfection processes employed to protect our patients.
---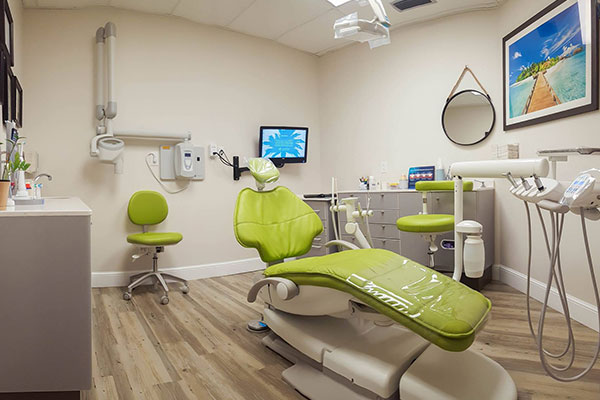 ---
Electric Dental Handpieces by W&H
---
Most dentists use handpiece (drill) motors that are driven by compressed air, leading to that annoying high pitch squealing noise, dentists are so noted for. However, with the exception of being more expensive, there are more advantages for the handpieces we use driven by an electric motor.
Compared to the traditional air-driven dental handpiece motors, the EA-53 electric motor integrated into our A-dec delivery system allows for:
more dependability
more efficiency
more patient comfort
lower noise with a lower pitch
LED lighting at the head of the handpiece
Our W&H Synea 500 electric handpieces micro head design offers exceptional access and patient comfort.
---
DenMat SL3 Dental Diode Laser
---
Dental lasers offer many soft tissue treatment modalities, including:
Crown Lengthening
Gum contouring
Uncovering dental implants
Periodontal (gum) therapy

Operculectomy (removal of inflamed tissue over wisdom teeth)

Uncovering unerupted teeth

Removal of fibrous/excessive soft tissue
Dental lasers offer a minimally invasive approach to treatment, including the following advantages:
Far gentler than either electrosurgery or scalpel

Safe to use with patients who have a pacemaker (unlike electrosurgery)

Tissue separates gently and easily with the laser

Hemostasis is achieved rapidly (minimal bleeding)

Minimal post-operative swelling
---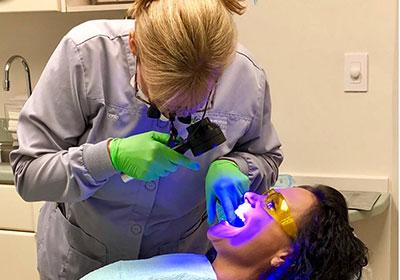 ---
ViziLite PRO Oral Lesion Screening Technology
---
Our ViziLite PRO has been engineered to operate within the wavelength for optimal discrimination of oral lesions, and provides a fast and effective approach to detecting epithelial dysplasia, even in its earliest stages. Features include:
Better oral cancer screening saves lives. This is why we use the ViziLite PRO.
We use fluorescence technology as a means of enhancing the visualization of oral mucosa to help enable the earliest possible discovery of potentially malignant and cancerous lesions.
---