Dental Implants in Stuart, FL
---
Stuart Prosthetic Dentistry provides dental implants in Stuart, FL. Call our office today at 772.286.1606 to schedule an appointment.
---
What is a dental implant?
---
A dental implant by itself is not a tooth! Dental implants can be thought of as artificial tooth roots. They allow for replacement of a single missing tooth, multiple teeth, or all teeth in an arch. Essentially, it is a small titanium post or fixture that is inserted into the jawbone, on top of which a single crown (cap), a fixed bridge, a removable partial denture, or full denture can be attached.
---
---
How is a tooth attached to a dental implant?
---
Once an implant integrates to your bone, a structure called an abutment is connected to the implant allowing delivery of an artificial tooth or teeth. Therefore, there are 3 parts to an "implant tooth": the dental implant itself, the abutment, and the artificial tooth or teeth (implant-supported prosthesis).
---
---
---
What is computer-guided implant placement?
---
Placing dental implants has now become more predictable than ever. Through the advancements of digital dentistry (3D) technology and presurgical planning techniques, dental implant placement procedures have become very precise.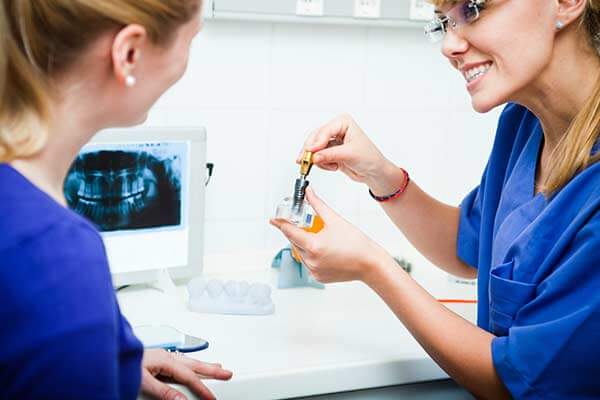 ---
How does computer-guided implant placement work?
---
Through computer-guided dental implant surgery, a 3D cone-beam scan of the patient's mouth is used to create a virtual surgery. Virtual models of the patient's mouth are made via optical scanning of the teeth. The 3D scans of the patient's mouth and virtual models are placed in an overlaid fashion, allowing the prosthodontist to perform a virtual surgery. Once the implant is planned in the safest and most ideal position within the jawbone virtually, a physical resin surgical guide is designed and fabricated (via 3D printing or CAD/CAM milling) for use during the implant placement procedure. On the day of surgery, this surgical guide fits over the adjacent teeth and is used to place the implant(s) in the pre-planned ideal position. A prosthodontist, like Dr. Tyler, is committed to the use of current dental technology to make outcomes predictable and safe for you.
---
---
---
Implant-Supported Crowns and Bridges
---
An implant-supported crown is a dental prosthesis that replaces a missing tooth by inserting an artificial titanium root (dental implant) into the jawbone and attaching an artificial tooth (crown) to it. It is either screwed or cemented in place and cannot easily be taken out.
An implant-supported bridge is a restorative solution for spaces where three or more adjacent teeth are missing. This restoration typically requires two implants to support the porcelain bridge. The bridge provides a functional and aesthetic replacement for a patient's natural teeth.
---
What are the advantages of implant-supported crowns and bridges?
---
Because of the natural look and feel of the porcelain and the functional stability provided by the implants, implant-supported bridges are an effective solution to replace multiple missing teeth.
---
---
---
Implant-Supported Fixed Complete Prostheses
---
Implant-supported fixed complete dentures are for the person who is losing or has lost all upper and/or lower teeth but does not want to wear a removable denture. With advancements in technology and techniques, your failing teeth can be replaced immediately (in one day) by placing four or more dental implants in your jaw and attaching this type of prosthesis. In comparison to conventional dentures, these beautiful and functional teeth are sure to improve your confidence, self-esteem, and quality of life.
Learn more about implant-supported fixed complete prostheses
---
---
---
---
Why should I see a prosthodontist?
---
A prosthodontist, like Dr. Tyler, is more qualified than any other dentist to provide this type of treatment due to their unique advanced specialty training and certification. In addition, as a Certified Dental Technician (CDT) before he became a dentist, Dr. Tyler gained invaluable experience, working several years in a dental lab. These experiences are noticeable when you receive the technically proficient treatment he provides for his patients, particularly when doing implant-supported fixed prostheses.
---
---
---
Implant-Retained Dentures
---
In the past, patients who lost most or all of their teeth only had one option available, conventional removable partial dentures or complete dentures. Dentures will enhance your smile and quality of life, but it will do so while providing some downsides along with the benefit. Conventional dentures require plastic or metal on the palate for better support, however, this reduces taste and can cause problems with speech. Also, they tend to make chewing harder and have little support, which allows them to sometimes move and not fit properly. Thankfully, most of this inconvenience can be addressed through the use of dental implants to retain partial and complete dentures.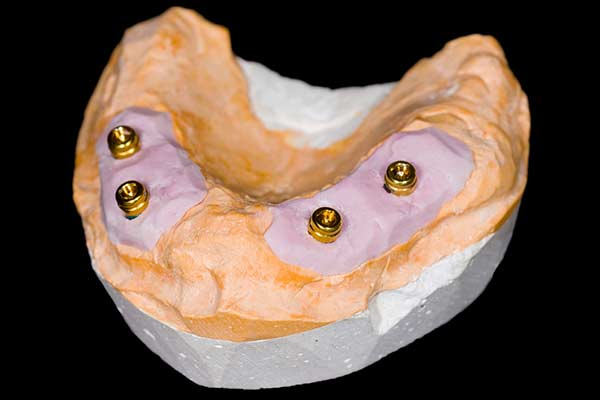 ---
Why should I consider implant-supported dentures over traditional dentures?
---
This technique offers many advantages over traditional dentures.
Easy to care for, this solution can simulate the look and feel of natural teeth and stay fixed in place with the implants acting as anchors. Patients will not experience the typical rocking and movement or gum irritation associated with dentures.
Dental implant placement can also help alleviate the sunken look that can occur with bone loss in the jaw by stimulating bone growth in the area around the implant. This process can also help prevent future bone loss.
---
Are you looking for a dentist in Stuart, FL? Contact us today to learn more and schedule an appointment.