Meet Our Team
---
Whether you're scheduling an appointment, have questions about treatment, or need help with your dental insurance, our friendly staff will be there to provide what you need in the most efficient and effective way possible. Their mission is to make sure you're always comfortable and informed while you're in our office.
---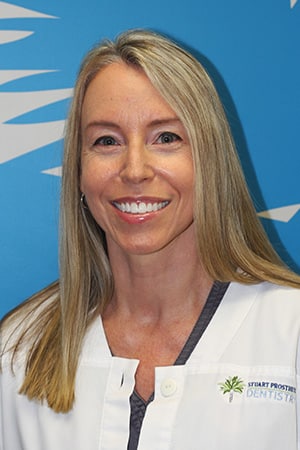 ---
Tina S.
Registered Dental Hygienist
---
Tina has been in the dental field for over 30 years. Tina was blessed to have many positive dental experiences starting at a young age and knew very early on that dentistry was a career choice for her. In high school, through an on-the-job training program, she earned her first dental position, starting at the front desk but quickly transitioned into clinical staff due to her interest. Tina became a Certified Dental Assistant in 1991. Then, she earned a A.S. in Dental Hygiene with Honors from the University of New Haven in Connecticut in 1997. Upon graduation, Tina soon realized how much she missed Florida. Therefore, she moved back to Port St. Lucie, where she had lived since 1985, and where she currently resides.
For the past 14 years, Tina has been practicing dental hygiene in a Prosthodontic office setting. She was drawn to the high quality and controlled approach of Dr. Tyler and Stuart Prosthetic Dentistry when she learned there was an opportunity to be our one and only full-time hygienist. Both Tina and Dr. Tyler are excited about working together for many years to come. Tina is patient-centered and committed to excellence, always striving to do her very best for each and every patient under her care. She enjoys helping patients maintain a healthy beautiful smile and building relationships with patients is her favorite part of her job.
When not in the office, Tina cherishes her time with her son, daughter, boyfriend, family and friends. She enjoys filling her weekends with biking, swimming, traveling, enjoying live music, and for special occasions, making intricate chocolate desserts.
---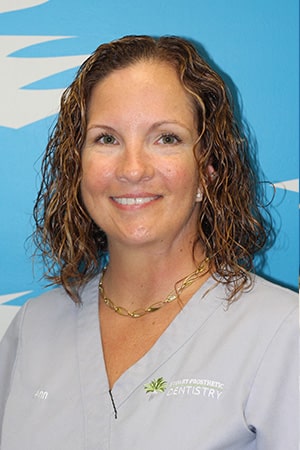 ---
Ann
Office Manager/Treatment Coordinator/Certified Dental Assistant
---
Ann is the glue that holds our office together. She and Dr. Tyler established their working relationship back in 2018 when Ann joined Stuart Prosthetic Dentistry as a dental assistant. In 2023, Ann returned to us first as a patient herself, then was brought back as a patient coordinator/front desk due to her previous experience with Dr. Tyler. Through excellent work, dependability, and leadership, Ann was asked to be our Office Manager.
A true Florida native, born and raised in Fort Pierce, Florida, Ann graduated from Fort Pierce Central High School. She started her dental career as a dental assistant taking the Expanded Functions Dental Assisting courses at Indian River State College in 2002. Ann has worked in dental offices for more than two decades and gained extensive clinical and administrative experience. She is passionate about getting to know all of our patients and making sure they receive quality service and attention from our front office. She loves getting to know her patients and building long term relationships.
Outside the office, Ann spends her time with her family, including her Fiance, and teenage son. Together, they enjoy boating, fishing, and trail riding.
---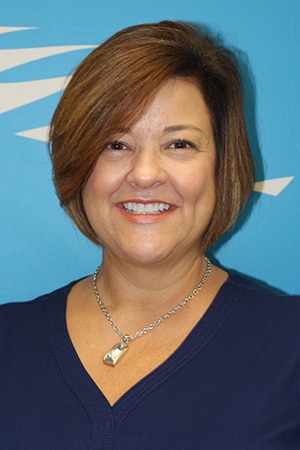 ---
Julie
Lead Front Desk/Financial Coordinator
---
With her famous line "I can help you", Julie will most likely be the first voice you hear when calling and the first smiling face you see when visiting Stuart Prosthetic Dentistry.
She joined our team with more than 20 years of experience in the dental field. Prior to working in dentistry, she spent time in the medical field which benefited her knowledge, attention to detail, and empathy. In addition, her time as an insurance customer service representative added invaluable customer service experience. Her ability to problem-solve, team orientated approach, and positivity have made her a welcomed and valued addition to our dental practice. If you have any questions, she will be happy to help in any way she can.
Julie is originally from Schenectady, New York but has now made the Treasure Coast home for over 30 years. She has been married to her musician husband for over two decades. In her spare time, she can be seen out and about enjoying her husband's band and enjoying our lovely. local beaches.
---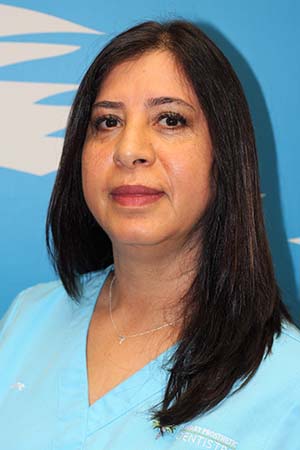 ---
Liliana R.
EXPANDED FUNCTIONS DENTAL ASSISTANT
---
Lily has been a Certified Dental Assistant with certification in radiology and
expanded functions since 2002 when she moved to the U.S.A. She originates from
Manizales, Columbia and practiced as a dental hygienist there for over 15 years.
She is very experienced in general dentistry, including removable prosthodontics,
and is enjoying learning more about the many digital dental procedures Dr. Tyler
utilizes, such as CEREC. Dr. Tyler and Lily have quickly developed a great working
coordination, leading to a more streamlined and efficient approach to our patient care.
Lily knew from a young age that she wanted to be in the dental field. She may seem
shy at first, but Lily enjoys getting to know patients on a personal level and looks
forward making a positive difference in their lives.
Lily resides in Port St. Lucie with her fiancé. In her free time, she enjoys walking on
the beach, travelling with her fiancé, and Facetime with her grandkids.
---