Meet Our Team
---
Whether you're scheduling an appointment, have questions about treatment, or need help with your dental insurance, our friendly staff will be there to provide what you need in the most efficient and effective way possible. Their mission is to make sure you're always comfortable and informed while you're in our office.
---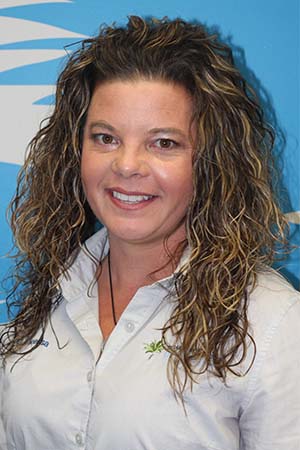 ---
Jenessa G.
Office Manager/Business Assistant
---
Jenessa will most likely be the first voice you hear when calling and the first smiling face you see when visiting Stuart Prosthetic Dentistry. She is our office manager, in charge of scheduling and patient financials including dental insurance. Jenessa earned a B.A. in Language Arts from UMASS Lowell in 2000 and an A.A. in Medical Assisting from Hessa College in 2002. She started her career in a medical office, but has spent the last 6 years in the dental field.
At the front desk, Jenessa's goal is to make your dental experience easy and relaxed! She is easy to talk to, knowledgable, and our expert in helping patients understand dental insurance coverage, payment options, and treatment recommendations. If you have any questions regarding billing, dental insurance, or scheduling, Jenessa will always be able to answer you or find your answer in a timely manner.
Jenessa is originally from Massachusetts, but has made her home on the Treasure Coast for the past 6 years. She has been married for 23 years and is a proud mother of three, two sons and a daughter. Her sons, age 23 and 21, are both attending UCF and her eldest is in the Army. Her daughter, who is 17 years old, is headed to college this year. In her spare time, she enjoys reading, going to the beach, and driving her awesome Jeep!
---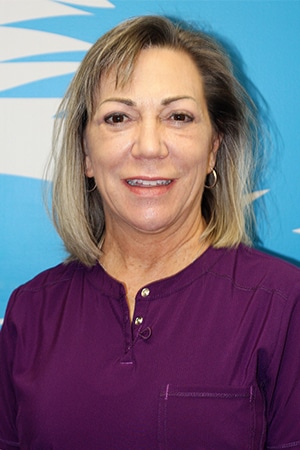 ---
Sandi S.
Certified Registered Dental Hygienist
---
Sandy has more than 30 years of experience in dentistry and is our one and only dental hygienist. Sandi was born and raised in Bucks County, Pennsylvania. She first became a Certified Expanded Functions Dental Assistant at Manor Junior College and went on to become a registered dental hygienist in 1990, earning her Bachelor of Science in Dental Hygiene from Thomas Jefferson University in Philadelphia. In 1991, Sandi moved to Florida to raise her two young children. Until June of 2020, Sandi worked at the same dental office for 30 years.
She is dedicated to continuing education and using current instrumentation, protocols, and techniques in order to achieve impeccable dental maintenance for her patients. Sandi is passionate about dentistry and loves helping people recognize their dental goals to achieve periodontal health and maintenance.
Sandi sees her two adult children often and her four precious grandchildren as they all reside in Port St. Lucie. She enjoys walking and taking in nature, often finding new areas to explore and photograph. She meditates, loves yoga, watching sunrises and sunsets, and relaxing with her best buddy, a pug named Lucie.
---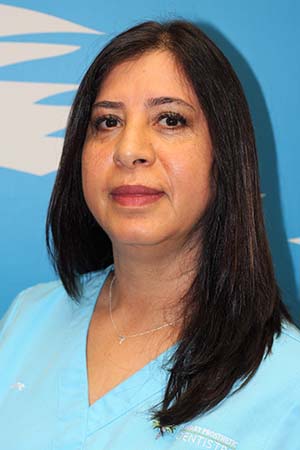 ---
Liliana R.
EXPANDED FUNCTIONS DENTAL ASSISTANT
---
Lily has been a Certified Dental Assistant with certification in radiology and
expanded functions since 2002 when she moved to the U.S.A. She originates from
Manizales, Columbia and practiced as a dental hygienist there for over 15 years.
She is very experienced in general dentistry, including removable prosthodontics,
and is enjoying learning more about the many digital dental procedures Dr. Tyler
utilizes, such as CEREC. Dr. Tyler and Lily have quickly developed a great working
coordination, leading to a more streamlined and efficient approach to our patient care.
Lily knew from a young age that she wanted to be in the dental field. She may seem
shy at first, but Lily enjoys getting to know patients on a personal level and looks
forward making a positive difference in their lives.
Lily resides in Port St. Lucie with her fiancé. In her free time, she enjoys walking on
the beach, travelling with her fiancé, and Facetime with her grandkids.
---