Meet Our Team
---
Whether you're scheduling an appointment, have questions about treatment, or need help with your dental insurance, our friendly staff will be there to provide what you need in the most efficient and effective way possible. Their mission is to make sure you're always comfortable and informed while you're in our office.
---
---
Bonnie N.
Certified Registered Dental Hygienist
---
Bonnie has more than 30 years of experience in dentistry and been our one and only dental hygienist since 2015. Bonnie has been a registered dental hygienist for more than 20 years since graduating from Indian River State College. Before that, she spent 10 years as a dental assistant, earning certification in radiology and expanded functions. Bonnie was one of the first hygienists to be certified to provide dental anesthesia to her patients as needed. She is dedicated to continuing education and using current instrumentation and techniques in order to achieve impeccable dental maintenance for her patients. Bonnie is passionate about dentistry and an educator by nature, to both her patients and aspiring hygienists and dental assistants at Indian River State College. Dr. Tyler can't say enough good things about Bonnie. She is outstanding at what she does…a superstar!
Bonnie enjoys spending time with her husband, two sons, and their dogs. They love time out on their boat, scuba diving and fishing. She is obsessed with her garden and orchids. She has over 170 plants in her backyard! Ask her about them if you'd like to see photos!
---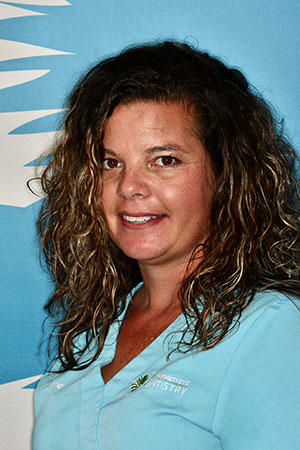 ---
Jenessa G.
Office Manager/Business Assistant
---
Jenessa will most likely be the first voice you hear when calling and the first smiling face you see when visiting Stuart Prosthetic Dentistry. She is our office manager, in charge of scheduling and patient financials including dental insurance. Jenessa earned a B.A. in Language Arts from UMASS Lowell in 2000 and an A.A. in Medical Assisting from Hessa College in 2002. She started her career in a medical office, but has spent the last 6 years in the dental field.
At the front desk, Jenessa's goal is to make your dental experience easy and relaxed! She is easy to talk to, knowledgable, and our expert in helping patients understand dental insurance coverage, payment options, and treatment recommendations. If you have any questions regarding billing, dental insurance, or scheduling, Jenessa will always be able to answer you or find your answer in a timely manner.
Jenessa is originally from Massachusetts, but has made her home on the Treasure Coast for the past 6 years. She has been married for 23 years and is a proud mother of three, two sons and a daughter. Her sons, age 23 and 21, are both attending UCF and her eldest is in the Army. Her daughter, who is 17 years old, is headed to college this year. In her spare time, she enjoys reading, going to the beach, and driving her awesome Jeep!
---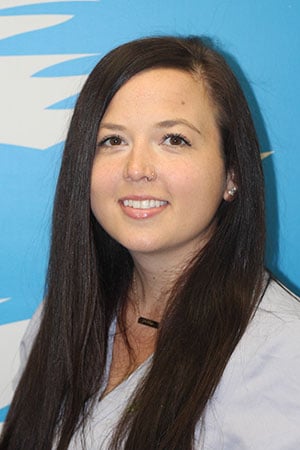 ---
Sarah H.
Expanded Functions Dental Assistant
---
Sarah has been a Certified Dental Assistant with certification in radiology and expanded functions since 2014. She is a graduate of Carrington College Dental Assisting Program in Sacremento, California. She is very experienced in general dentistry and has formal training in many of the digital dental procedures Dr. Tyler utilizes, such as CEREC. She is excited to learn more about our specialty of prosthodontics.
Sarah is a native to Florida, born in Miami. She knew from a young age that she wanted to be in the dental field. Since childhood, she loved going to the dentist and would often volunteer to be a "guinea pig" for any new technologies or updates that her dentist would find. Sarah enjoys getting to know patients on a personal level and looks forward making a positive difference in their lives, like her childhood dentist did for her.
Sarah resides in Stuart with her fiance and two dogs. She is caring, diligent, and loyal. She continues to work evenings at a local restaurant here in Stuart, which she has been for the past 17 years. In her free time, she enjoys spending time outside, either walking her dogs or taking a bicycle ride.
---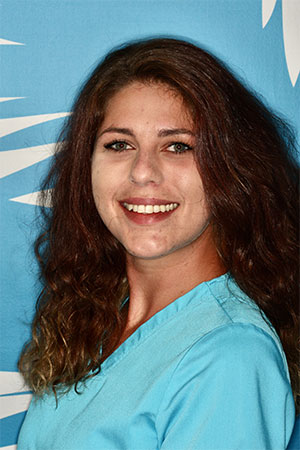 ---
Ericha T.
Dental Laboratory Technician/Dental and Business Assistant
---
Ericha, like Dr. Tyler, was drawn into the field of dentistry through her interest in the art of dental laboratory technology. Also, just like Dr. Tyler back in 1999, Ericha has earned an A.S. in Dental Laboratory Technology and Management from Indian River State College, graduating in 2017. In addition to her lab abilities, she has experience working in the sterilization center of a large dental practice. For the last three years, Ericha has been working as a dental technician in a local dental laboratory. However, again like Dr. Tyler, Ericha wanted to be more involved in the overall treatment of patients than just doing the lab work. Having a lab background and a working knowledge of the process of fabrication of dental prosthetics is an asset in our prosthodontic practice. She is excited to expand on her knowledge in order to improve your patient experience. You may meet Ericha working along-side Dr. Tyler as a dental assistant or on the phone while aiding Jenessa with front desk duties.
Ericha was born and raised in Saint Lucie county, and has no plans for leaving. She is about living life to the fullest with her husband and 11-year-old son. She loves doing pretty much anything outdoors, enjoying time at the beach and walking nature trails.
---