Dentist Serving West Palm, FL
---
---
Stuart Prosthetic Dentistry
ADDRESS
1001 S.E. Ocean Blvd, Suite 102
Stuart, FL 34996
Directions
HOURS
Monday | 8am - 5pm
Tuesday | 8am - 5pm
Wednesday | Closed
Thursday | 8am - 5pm
Friday | 8am - 5pm
Saturday | Closed
Sunday | Closed

Request an Appointment
---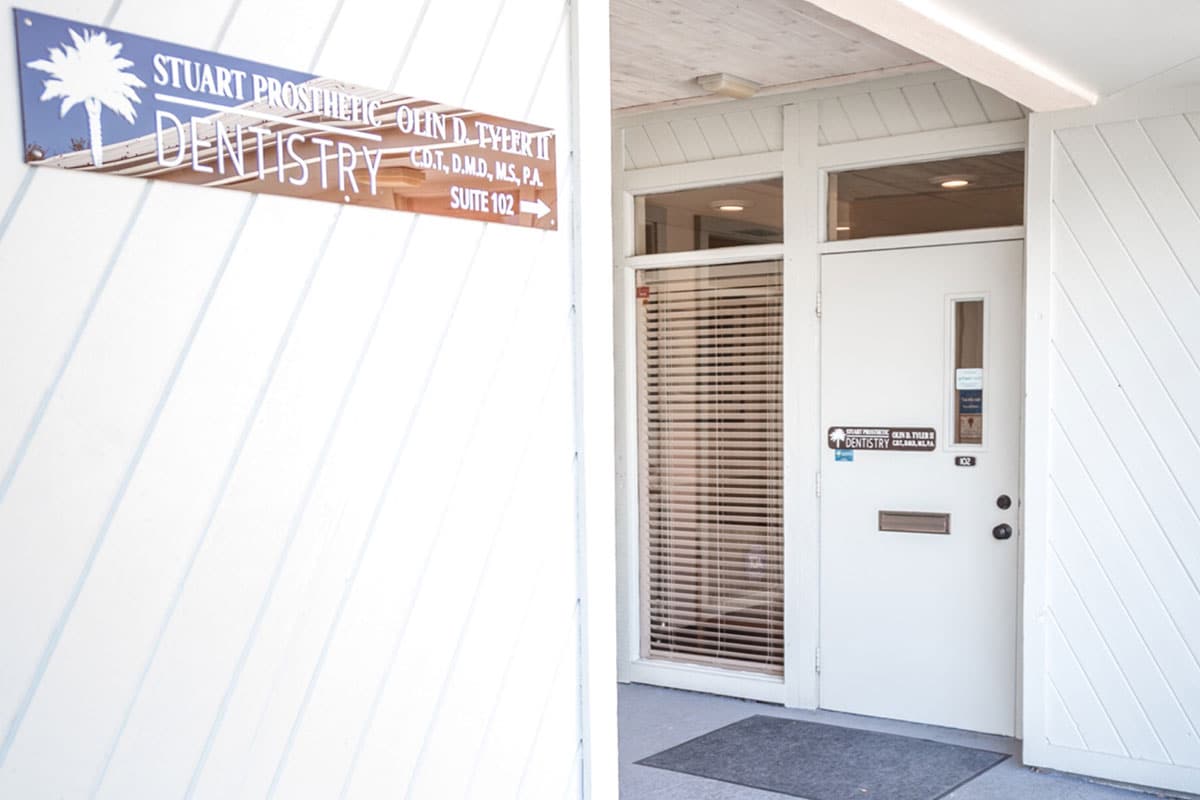 ---
Prosthodontist Near West Palm, FL
---
The American Dental Association recognizes prosthodontics as one of several dental specialities. Prosthodontists excel when it comes to designing realistic prosthetic teeth, but their expertise goes far beyond dentures and bridges. Here are some of the reasons you might want to choose to see a prosthodontist for your dental care:
Advanced training in state-of-the-art dental techniques and procedures

Treatment of complex dental conditions, including TMJ disorder

Superior restorations that replicate the appearance, strength, and function of natural teeth

3 years of advanced training and certification after graduating dental school

Cosmetic dentistry that is designed to look natural and fit your facial features

Dentures that are comfortable, functional, and realistic
Because of their extensive knowledge regarding how the teeth, jaw, and facial muscles work together for optimal function and health, prosthodontists are also an excellent choice for general dental care. When you need restorative work, you'll feel confident knowing you're getting a high-quality, natural-looking restoration designed by an expert.
---
Frequently Asked Questions About Our West Palm, FL Area Dental Practice
---
Do you accept dental insurance?
We are pleased to accept dental insurance at Stuart Prosthetic Dentistry. Our team will file insurance claims on your behalf and take care of any required paperwork, but you are responsible for paying for your treatment at the time of your appointment. Your insurance company will then reimburse you directly.
What is a prosthodontist?
Like general dentists, prosthodontists earn a DDS or DMD degree from an accredited dental school. After this, prosthodontists go on to receive an additional three years of education and training that is focused on optimizing the function of the teeth and jaw and the reconstruction and replacement of natural teeth. This in-depth training makes prosthodontists the recommended choice for dentures, dental implants, restorative dentistry, cosmetic dentistry such as veneers, and TMJ treatment.
What should I bring to my first appointment?
You should bring your insurance card, new patient forms, and a list of any medications you are currently taking to your first appointment.
Are dental implants covered by my insurance?
What dental services do you offer?
Dental insurance plans can vary from one provider to the next, so it's important to contact your insurance company directly to find out what they will cover. Many plans cover at least some of the costs involved in getting dental implants, but this isn't always the case. In certain circumstances, as with reconstruction after an accident or oral cancer, your medical insurance may provide coverage for dental implants.
Can I book my appointment online?
You may submit an appointment request online and one of our team members will contact you to confirm an appointment time.
---
Directions from West Palm, FL
---
Get on I-95 N from 1st St/Banyan Blvd, N Tamarind Ave and Okeechobee Blvd
Head south on FL-5 S toward 1st St/Banyan Blvd
Turn right onto 1st St/Banyan Blvd
Turn left onto N Tamarind Ave
Use the 2nd from the right lane to turn right onto Okeechobee Blvd
Continue straight to stay on Okeechobee Blvd
Use the right lane to merge onto I-95 N via the ramp to Daytona Beach
Follow I-95 N to FL-76 E in Martin County. Take exit 101 from I-95 N
Merge onto I-95 N
Take exit 101 for FL-76 toward Stuart/Indiantown
Continue on FL-76 E. Take FL-714 E/SE Monterey Rd to SE Ocean Blvd in Stuart
Use the right 3 lanes to turn right onto FL-76 E
Turn right onto SE Indian St
Turn left onto SE Willoughby Blvd
Turn right onto FL-714 E/SE Monterey Rd
Turn left onto SE Ocean Blvd
Stuart Prosthetic Dentistry will be on the right
Call us today at 772.286.1606 to schedule your appointment!
---