Invisalign® in Stuart, FL
---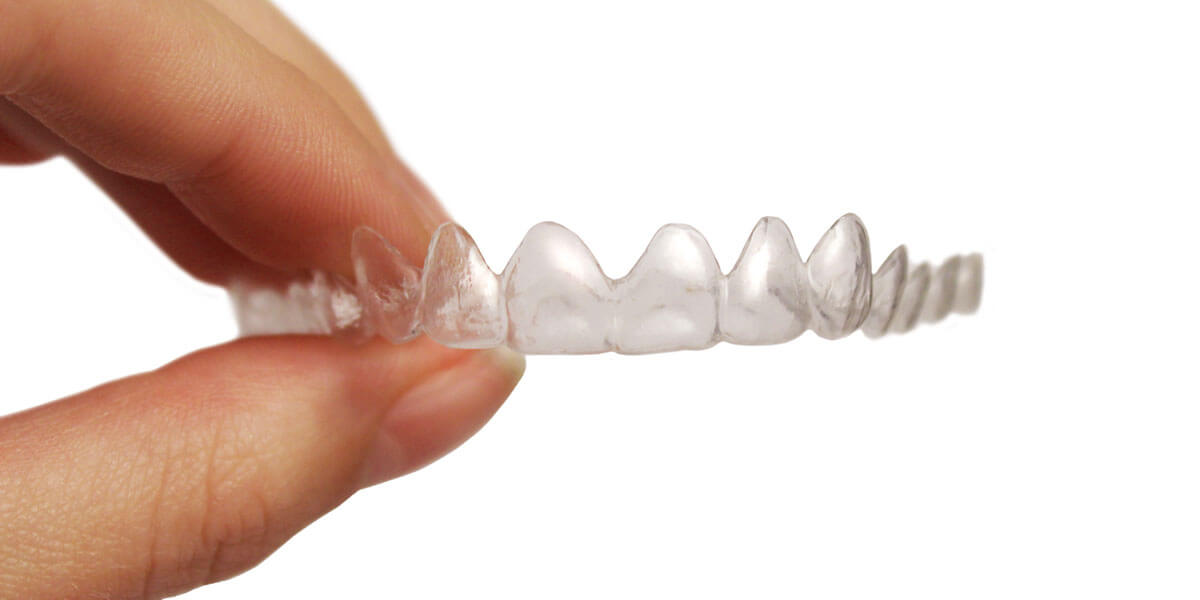 ---
Stuart Prosthetic Dentistry provides Invisalign® treatment in Stuart, FL. Call our office today at 772.286.1606 to schedule an appointment.
---
Invisalign® takes a modern approach to straightening teeth.
---
This advanced system uses a custom-made series of aligners created for you and only you. These aligner trays are made of smooth, comfortable and virtually invisible plastic that you wear over your teeth. Wearing the aligners will gradually and gently shift your teeth into place, based on the exact movements your dentist or orthodontist plans out for you. There are no metal brackets to attach and no wires to tighten. You just pop in a new set of aligners approximately every two weeks, until your treatment is complete. You'll achieve a great smile with little interference in your daily life. The best part about the whole process is that most people won't even know you're straightening your teeth. Dr. Tyler is able to provide Invisalign® treatment using CEREC advanced digital technology.
---

---
Over 4 million patients are smiling with confidence thanks to Invisalign® clear aligners. Without brackets or wires, this clear aligner treatment takes a modern approach to teeth straightening and is virtually invisible.
Dr. Tyler is a certified Invisalign® provider. However, certain complex cases may require referral to an orthodontist.
---
---
Why are crooked teeth a problem?
---
Teeth that are not aligned properly in your mouth create what dentists call "malocclusion." Left untreated, malocclusion can lead to gum disease (periodontal disease) and create abnormal amounts of stress on teeth and jaws, which can lead to premature wear.
Many people incorrectly believe that clear aligners are only effective in treating minor malocclusions. But in fact, they can successfully treat patients with moderate and severe conditions. The following are the different types of malocclusion and some of the potential problems associated:
Crowding – not enough room for the teeth; build up plaque and tartar easier; at higher risk of periodontal disease, tooth loss, and bone loss.
Spacing – gaps between the teeth; food lodges between teeth; risk of periodontal disease and bone loss.
Overbite – protruding upper teeth; over-erupted lower front teeth that can damage the palate; premature wear and chipping of the lower front teeth
Underbite – protruding lower front teeth; premature wear and chipping of front teeth; jaw joint pain
Edge to edge bite – upper and lower front teeth hit edge to edge; risk of teeth chipping and breaking; jaw joint pain; shortened or worn-down front teeth.
Crossbite – lateral misalignment of a tooth or teeth; premature tooth wear and risk of chipped teeth; abfraction (small notch in tooth at the gumline); periodontal disease, tooth loss, and bone loss
Deep bite – upper front teeth hiding lower teeth; over-erupted lower front teeth that can damage the palate; premature wear and chipping of the lower front teeth.
Open bite – vertical spacing between upper and lower front teeth; abfraction (small notch in tooth at gumline); gum recession, loose teeth, and bone loss; excessive, premature wear on back teeth.
---
Is a retainer needed after Invisalign® treatment?
---
Yes! After completion of clear aligner treatment or traditional orthodontics, using braces, you must wear a dental retainer for life (or as long as you want to keep straight teeth). An orthodontic retainer is given to a patient after treatment to keep the teeth from returning to their prior position or simply to prevent them from shifting.
It is important to wear the retainers as prescribed. Failure to do so, may result in the need to go through treatment once again. Also, if not worn often, the teeth may move so that the retainer will no longer fit. If this happens to you make sure to contact Dr. Tyler as soon as possible.
---
What are the different types of retainers?
---
There are two types of retainers: fixed and removable ones. Removable retainers can be taken off for teeth brushing and eating. Fixed retainers, on the contrary, can only be removed by the doctor.
When it comes to retainer design, there are various options. A Hawley retainer consist of a plastic base attached to a wire that wraps around your teeth. Another common type is an Essix retainer. Essix retainers are made completely of clear plastic, similar to an Invisalign clear aligner and are virtually invisible, making it a popular choice. Also, there are bonded retainers. These are permanent retainers glued to the back of patient's teeth.
Dr. Tyler is able to fabricate Essix retainers using CEREC advanced digital technology.
---
How are dental retainers maintained?
---
Retainers can carry bacteria as well as wear, if not properly taken care of. For Hawley retainers, make sure to clean them on a daily basis with your toothbrush and water. For Essix retainers, it is recommended to clean them with some of denture cleaner or a retainer cleaning product.
Be sure to rinse them well, when using some liquid antibacterial soap to clean them since most solutions contain chemicals that should not be ingested. Also, make sure to not wash your retainers in hot water since this may cause damage or affect its structure. Fixed, bonded retainers take effective oral care to avoid problems. If not properly cleaned by brush and floss, they become a plaque trap. This can lead to tooth decay and gum disease on the teeth that the retainer is bonded to.
Professional dental hygiene visits and regular dental exams will help keep your mouth healthy.
---