Dentist Serving Hobe Sound, FL
---
---
Stuart Prosthetic Dentistry
ADDRESS
834 S.E. Ocean Boulevard
Stuart, FL 34994
Directions
HOURS
Monday | 8am - 5pm
Tuesday | 8am - 5pm
Wednesday | Closed
Thursday | 8am - 5pm
Friday | 8am - 5pm
Saturday | Closed
Sunday | Closed

Request an Appointment
---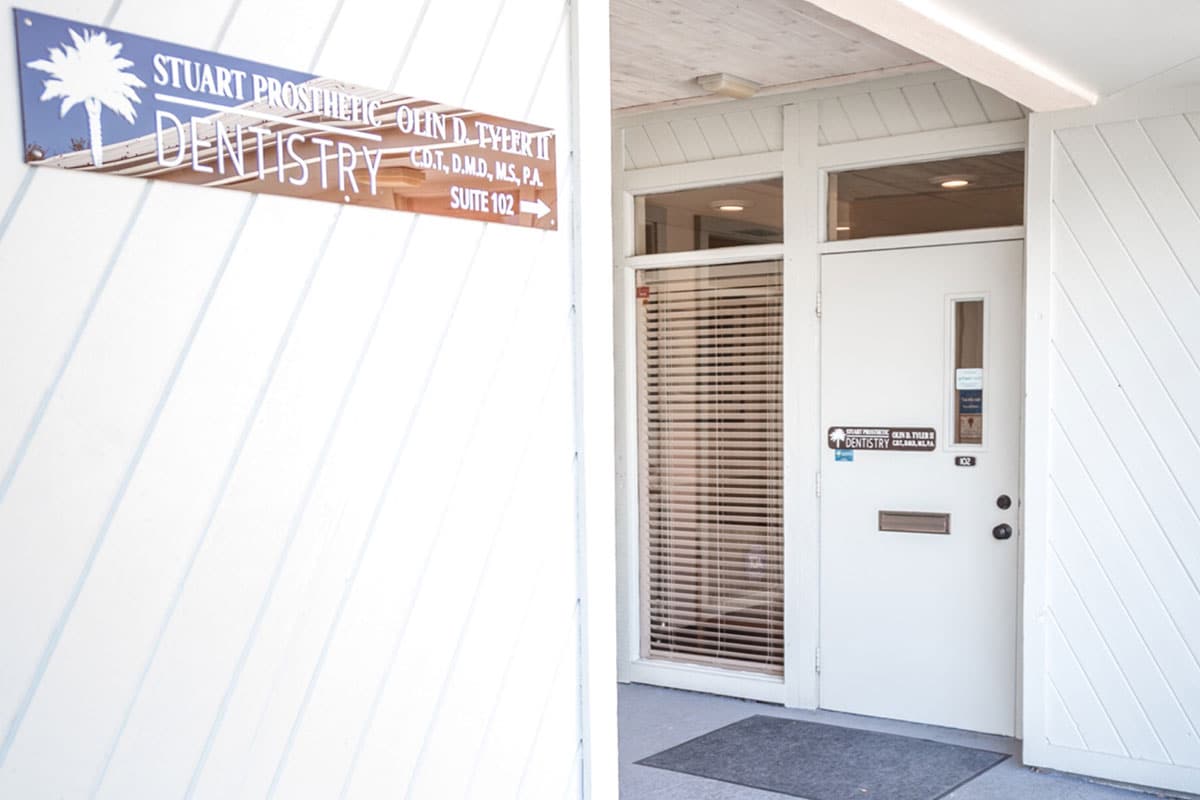 ---
Directions from Hobe Sound, FL
---
Head east on SE Bridge Rd toward SE Hercules Ave
Turn left onto SE Lares Ave
Turn right onto SE Algozzini Pl
Turn left onto Florida A1A N
Turn right onto FL-714 E/SE Monterey Rd
Turn left onto SE Ocean Blvd
Stuart Prosthetic Dentistry will be on the right
Call us today at 772.286.1606 to schedule your appointment!
---
Prosthodontist Near Hobe Sound, FL
---
Prosthodontics is one of several dental specialties recognized by the American Dental Association. As the name suggests, prosthodontists are experts when it comes to designing realistic prosthetic teeth, but our advanced training goes beyond dentures and bridges. Patients choose to see prosthodontists because we:
Have extensive training in state-of-the-art dental techniques and procedures

Treat complex dental conditions, including TMJ disorders

Create exceptional restorations that replicate the appearance, function, and strength of your natural teeth

Complete three additional years of advanced training and certification beyond dental school

Provide cosmetic dental work that is carefully designed to look natural and fit your facial features

Design dentures that are comfortable, functional, and natural-looking
In addition to all of the reasons above, many patients choose to see a prosthodontist for their general dental care because prosthodontists have a keen understanding of how the teeth, jaw, and muscles work together for optimum function and health. They also like the peace of mind knowing that when they need restorative dental work like crowns or bridges, they're seeing a doctor who specializes in providing the highest quality restorations available.
---
More About Dr. Tyler
---
Dr. Tyler has been a resident of Hobe Sound since the age of 6 and attended Hobe Sound Elementary School from grade 2-5. He has fond memories of growing up playing recreational sports in Hobe Sound Soccer League, Hobe Sound Little League, and Hobe Sound Pee-Wee Football League. 
His parents, Olin and Carol Tyler, were the owners of Bridge One Pizza (currently named Amato's Ristorante & Pizzeria) off of Bridge Road from 1993-2005. Dr. Tyler worked in his parents' pizzeria starting at age 15 and continued to do so until he left for Gainesville to attend the University of Florida in 2002. He cooked, delivered pizzas, and even used to paint the large front window of the restaurant to show holiday spirit during the annual Hobe Sound Christmas Parade.
Upon returning from the University of Florida in 2011, Dr. Tyler and his wife and son moved back to Hobe Sound to be near his family, including his mom and dad, sister and nephews. To come full circle, Dr. Tyler's two sons, Olin III and Cashel, currently attend Hobe Sound Elementary. He and his entire family love their hometown of Hobe Sound and plan on being there for many years to come.
---
Frequently Asked Questions About Our Hobe Sound Dental Practice
---
Do you accept dental insurance?
---
Yes, we do accept dental insurance at Stuart Prosthetic Dentistry. We are happy to file insurance claims on your behalf and handle any paperwork needed, but you will be responsible for paying for your treatment on the day of your appointment. Your insurance company will then reimburse you directly.
What is a prosthodontist?
---
Like general dentists, prosthodontists attend dental school, but then they go on to receive an additional three years of education and training specializing in the reconstruction and replacement of natural teeth and optimizing the function of the teeth and jaw. This level of expertise makes prosthodontists the best choice for dentures, dental implants, restorative dentistry, cosmetic dentistry such as veneers, and TMJ treatment.
What should I bring to my first appointment?
---
Bring your insurance card, new patient forms, and a list of any medications you are currently taking to your first visit at our office, which is a short drive from Hobe Sound.
Are dental implants covered by my insurance?
---
Some dental insurance plans provide at least partial coverage for dental implants, while others do not. For example, your insurer may cover the restorations that attach to your implants, but not the implants themselves. In some circumstances, medical insurance may provide coverage for dental implants. Contact your insurance providers to ask about your benefits.
Can I book my appointment online?
---
You can submit an appointment request online and our office manager will get in touch with you to confirm your appointment time.
What dental services do you offer?
---
---